Print Friendly
Meissner, Shelton take Crater Lake run: Oregon runners become first-time marathon winners in 33rd annual event
Mail Tribune
Medford, Oregon
August 10, 2008
By FRANK SILOW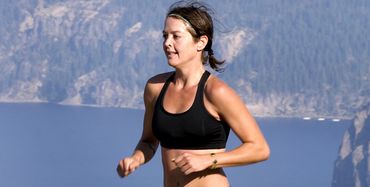 Jenn Shelton, of Ashland, runs by the 10-mile maker on her way to winning the Crater Lake Rim Runs and Marathon on Saturday.
Sean Meissner capitalized on a colossal mistake, while Ashland's Jenn Shelton was in need of a workout. But the two runners came away as the male and female marathon winners in the 33rd Crater Lake Rim Runs and Marathon on Saturday.
Meissner, of Sisters, was destined as the runner-up until leader Chuck Engle missed a turnaround two miles from the finish line.
Engle, a 37-year-old experienced marathoner from New York City, led the race from the outset and built an insurmountable lead in his first appearance in the Crater Lake race. After passing through the Lost Creek campground and going uphill two miles on a dirt road, runners turn around and come back down the road to finish at the campground. When Engle got to the turnaround, flagged by orange cones and manned by race staff, he kept going. Race officials attempted to point Engle in the right direction, but he ignored their instructions. Engle ended up finishing fifth, more than 15 minutes behind the winner.
"I feel bad for (Engle)," said Meissner, 35. "He should have won."
Crater Lake Rim Runs
recap: Sean Meissner takes advantage of error by race leader Chuck Engle to win men's marathon, while recent Ashland resident Jenn Shelton easily breaks women's record.winning times: Meissner, 2:55.47; Shelton, 3:15.01
Meissner recorded a victorious time of 2 hours, 55 minutes, 47 seconds. Former winner Todd Ragsdale of Talent was runner-up for the second straight year.
Meissner, who specialized in longer ultra-marathons, had run in the Crater Lake race only once before, in 2002. His goal was to break the three hour mark.
"I had a great race," said Meissner. "I was stoked about my time. It's probably the hardest road marathon in the country."
Meissner was sixth earlier in the race before moving ahead of Ragdale into second place at about the 11-mile mark. Ragsdale retook second on a long downhill, but the central Oregon runner regained the No. 2 spot on an uphill stretch about 1/2-mile later and was never passed again.
Meissner was unclear about Engle's predicament, but the Washington native knew he had the lead after the final turnaround.
"I just leaned forward and let my legs take me," said Meissner about the last two miles downhill to the finish line. "I knew I had a good enough lead on (Ragsdale) going up. My strength is the ups. The whole day, that's where I passed people."
Shelton moved to Ashland just two months ago from Bend. It was her first time at Crater Lake. The 24-year-old runner called race director Bob Freirich on Thursday in an attempt to enter. Freirich told her the race was full, but called back later that day to inform Shelton there was an opening because someone dropped out.
Shelton's time of 3:15.01 shattered the previous record of 3:18.10 by Hillary Simmons of Roseburg in 1991.
"I've been injured and out of shape," said Shelton, who is also a ultra-marathoner. "I wanted to do the race because I needed a good workout.
Shelton went to the lead early and was never challenged. Abigail Stephens, of Knoxville, Tenn., placed second, over 12 minutes behind.
"There were two out-and-backs and I knew I was ahead," said Shelton. "I wanted a nice, sustained effort. It went well without a hitch."
Alex Peterson, a 17-year-old senior at Klamath Union High, won the men's half-marathon with a time of 1:22.42, while Elyse Braner of Washington D.C. took the women's race at 1:30.57.