Print Friendly
Locals Impress: Area runners win 2 short runs
Herald and News
Klamath Falls, Oregon
August 10, 2008
By STEVE MATTHIES
H&N Sports Writer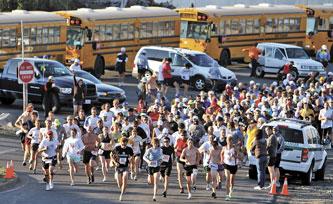 And they're off: Runners head out for the start of the 6.7 mile run and half marathon at the Crater Lake Rim Runs Saturday.

H&N photo by Andrew Mariman
Chris Reed had a simple plan for Saturday morning.
The Klamath Union graduate intended to be a rabbit for four-time 13-mile champion Trevor Hanlin during the 33rd annual running of the Crater Lake Rim Runs and Marathon.
Instead, Reed led a solid performance by local runners in the two short races.
Reed, running at Crater Lake for the first time, won the 6.7-mile race in 36 minutes, 26 seconds and finished almost three minutes ahead of Portland's Dan Brown in a race where seven of the top nine individuals were from the Klamath Basin.
Reed also helped pace KU's Alex Peterson to a comfortable win in the 13-mile race.
Room to spare
The 17-year-old Peterson, who will be a senior for the Pelicans this fall, won in 1:22:42, almost eight seconds ahead of Shawn Miller of Coos Bay, who runs collegiately at Oregon Tech.
"In college, we run 8K and 10K races, and 6.7 miles is just over 10K," Reed said after what appeared to be an easy day at the park. "I wanted to kind of replicate what I do in college (at Western Oregon University).
"Plus, I was going to pace Trevor. He wanted me to pace him through the race because he wanted to try and break the course record. But when I saw no one was with me, I figured he wasn't here."
Hanlin, who won the 13-mile event for the first time in 2003 while a senior at Grants Pass High School, also won the race in 2004, '06 and '07. He would have needed to shave nine seconds off his previous best to set the record.
A door is opened
Hanlin's absence left the door open for Peterson, who finished third in the half-marathon race each of the last two seasons.
"Last year, I was four minutes faster than I was the first time (at Crater Lake), and this year, I was two and one-half minutes faster than last year," Peterson said.
"I considered this a chance to come up and do a long run," he said of the 13-mile men's race in which four of the top 11 runners have connections with Klamath Falls. "I just thought I would push it a little and get outside the ordinary.
"This race was a checkpoint for me aerobically," Peterson said.
While locals had a brilliant afternoon in the men's competition, a pair of first-time runners from the East Coast won the women's two races — Jennifer Dobson of Oakton, Va., won the 6.7-mile race, and Elyse Braner of Washington, D.C., claimed the 13-mile event.
Dobson has been traveling with her parents as she prepares for graduate school at Stanford.
"My parents are fans of the national parks, so this is kind of like a last family vacation before I go to grad school," Dobson said, "and this was kind of on the way (to Stanford)."
Coming back to Oregon
Braner, who will return to Oregon in two weeks to run in the Hood-to-Coast race in Northern Oregon, said she read about the race and heard the course around the 100-year-old national park was beautiful.
"I tried to test my fitness on one of the hardest half-marathon courses in the country," Braner said. "I'm ready to come back and do a full marathon (at Crater Lake)."
Susie Waugh was the first Klamath Falls woman to finish the 6.7-mile event, and was fourth, while Maria O'Neal was the first local women to finish the 13-mile race and was 17th overall.
It was in the 6.7-race that local runners dominated.
After Reed and Brown, Mazama's Kirby Garlitz was third, Henley's David Carruth and Cortland Henderson fourth and fifth, Bonanza's Adrian Martinez sixth, Lakeview's Brent Corning eighth, and Caleb Agular ninth.
Local runners also came in 11th, 12th, 14th and 15th.