Print Friendly
ODOT worker hurt when tree crushes pickup truck
Prospect, Oregon
February 4th, 2008
By KATU WEB STAFF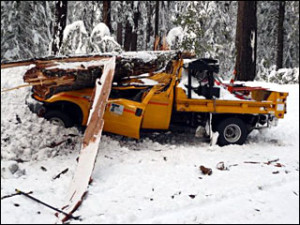 Photos courtesy of the Oregon Department of Transportation
An Oregon Department of Transportation worker was hurt Sunday in the Crater Lake area when a large tree fell and struck his ODOT vehicle.ODOT officials said Bert Fernandez, 58, a 30-year ODOT employee with the High Cascades maintenance crew, was injured Sunday morning when a 32-inch fir tree struck his one-ton pickup.
The incident happened shortly before 6 a.m. between Prospect and Union Creek on Oregon 62.
A second ODOT employee arrived on scene in a snowplow and transported Fernandez back to Casey State Park, where he was then transported by air ambulance to Rogue Valley Medical Center.
Heavy snow in the area has prompted ODOT to warn drivers to stay off the road due to the danger of falling snow and ice-laden trees.
"We can't emphasize enough why it's important to stay off these highways," said ODOT Region Manager Paul Mather. "ODOT, Oregon State Police and other emergency service providers are working under hazardous conditions. The public needs to stay home and be safe."