Print Friendly
Hands and Hoofs: Horse Group helps Crater Lake Ski Patrol mark winter trails
Mail Tribune
Medford, Oregon
September 18, 2008
By BETH LEE
'I feel some ownership in the park,' volunteer says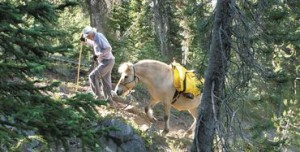 Bill Gray, 78, a member of the Klamath Falls Horse and Carriage Society, leads Pixie, a Norwegian Fjord, to a ski patrol camp in Crater Lake National Park where volunteers were marking ski trails. Gina Janelli / Real Image Pro
"She's a very versatile little mare," says Virginia Gray, a member of the Klamath Falls Horse and Carriage Society, as the 87-year-old outdoorswoman pats her 11-year-old Norwegian Fjord, Pixie.
"She can ride, pull a cart, plow, drive, pull logs and now — pack."
Like other horses gathered at a Crater Lake National Park trailhead this particular August morning, Pixie is used to pulling carriages. Today she's going to help the Crater Lake Ski Patrol by packing gear into the forest for a group of volunteers who are marking winter ski trails.
Patrol members hand over a collapsible ladder, blue plastic diamonds, nails and hammers to members of the horse club. Even the patrollers' backpacks get a three-mile horseback ride to a backcountry campsite.
While ski patrol members manage some trail marking each summer, this is the first time they've arranged a summer campout or collaborated with a horse group to get the job done. Before the lodgepole pines on a remote three-mile section of the Pacific Crest Trail don blue plastic diamonds, more than a dozen people and four horses will lend hands and hoofs to the effort.
Why does a horse and carriage group want to help with a ski trail project?
"It's Crater Lake," says HCAS member Julie Bruce, opening her arms in a wide embrace of the surrounding forest.
"And it's so much fun," Gray adds.
How to join the Crater Lake Ski Patrol
If backcountry skiing, service to others and the camaraderie of spirited ski companions spark your interest, now is the time to apply for membership in the Crater Lake Ski Patrol.New members will need to attend two mandatory training sessions on the first weekends of November and December, and sign on for an additional three weekends of service between mid-December and mid-April.For ski patrol membership information and application forms, visit the Crater Lake Ski Patrol's Web site at www.craterlakeskipatrol.org. Direct e-mail questions to CraterBabs@hotmail.com, or call 541-482-1829.
Scouts from each service club have prepared for the project with advance forays into the national park. Ski patrollers Barbara Hansen and Ellen Rubenson of Ashland located a campsite and carried out a 16-foot ladder that would be too long for a horse to carry. Horse society members took preliminary hikes to gauge the reaction of their horses to the packing experience.
"So many people say they get bored in old age," says Gray. "Bill (my husband) and I never get bored. We're always doing something."
Steve Bruce checks the packing system he's devised for his two quarter horse/Clydesdale crosses, and JoAnn Gooch reassures her young hafllinger.
"This is huge," says Hansen, overwhelmed by the generosity of people who don't necessarily know the park's winter aspect.
Niel Barrett of Klamath Falls bludgeons dead limbs off a lodgepole pine with the end of a 16-foot ladder. Then he holds the ladder steady while Barbara Hansen of Ashland nails a blue marker as high as possible. A live branch dangles just above the marker, and Barrett hands up a pruning saw, because when the branch is bowed with snow it will obscure the marker.
A handful of Crater Lake Ski Patrol members and friends lug ladders from one tree to the next, adding orange paint to old metal markers and nailing up blue plastic diamonds fitted with reflective tape. The tape will shine in the beam of a headlamp to guide night rescuers and skiers caught out after dark.
"This isn't my favorite part (of ski patrol work)," says Hansen, who prefers work that involves skiing.
While most upgrades on the park's 70 miles of marked ski trails take place in winter, marking trail from a pair of skis can be limited by the snow level, long ski tours in limited daylight and dangerous wells at the base of trees buried under as much as 10 feet of snowpack.
Before this two-day project, adventurous skiers relied on occasional markings and GPS waypoints from the ski patrol's Web site to negotiate the center section of a 13-mile, one-way ski tour from the Rim Village to Highway 62. The route heads west from Rim Village to the Lightning Springs Trail (3.5 miles), where it dives four miles through steep bowls to the Pacific Crest Trail. The final six miles traverse a burn area and an old-growth woods. Challenging water crossings sometimes require snow bridges.
Patrol members know the route better than just about anybody because they can arrange the necessary shuttle, then spend the night at the ski patrol's bunkhouse. Those are big pluses in a remote park that offers no winter accommodations.
"We get to have Crater Lake as our playground. We get to intimately know such a beautiful place in its prime time of year," says Hansen. She isn't bragging; she's inviting others who like the sound of this deal to apply for membership in the patrol.
The volunteer ski patrol's red jackets are a familiar sight during winter in the park, where these official park representatives provide emergency medical services, search for people who are lost, answer visitor questions, position warning signs and evaluate weather and avalanche conditions.
"We have work to do, but we ski — and we train," says Hansen.
Each patroller must attend two mandatory training sessions on the first weekends of November and December and sign on for an additional three weekends of service between mid December and mid April.
While emergency medical training and strong ski skills are ideal qualities in a patroller, they also are qualities that can strengthen with time and training, so you don't have to be an expert to sign up.
"As you are here longer, you build your skills and find out what your niche is," says Hansen, who chose to focus on trails because she wanted to learn orienteering.
As trails coordinator for the patrol, she seeks out fellow patrollers who can teach her these skills and brings them in on trail projects.
On any winter weekend, patrollers can be found teaching their comrades to tie knots, respond to an accident or ski with a litter. A person with the interest "can easily translate snowboarding or alpine skiing into backcountry skiing," says Hansen, who has improved all aspects of her skiing, from kick and glide to turning, during her nine-year service with the patrol.
"The more you do (challenging) things, the more comfortable they become," she adds.
"It usually takes three years to expose you to everything, and that's just a brief exposure," says Barrett, who has been with the patrol since its start 26 years ago. Last winter, Barrett spent 40 days at the park and logged 260 ski miles.
Hansen estimates she skied 120 miles during 10 days of active patrol duty, not counting a three-day ski tour around Crater Lake.
"I feel some ownership in (the park), and what better thing for a park than to have people who feel ownership in it," says Hansen.
"When people feel ownership, they try to do what's best for the park."
Mary Beth Lee is an Ashland writer. Reach her at gentlejourneys@ashlandhome.net.