Print Friendly
Garfield Peak offers new vantage point to Crater Lake: Hikers can enjoy spectacular views from the top or stops along the way
Herald and News
Klamath Falls, Oregon
August 28, 2008
LEE JUILLERAT
H&N Regional Editor
CRATER LAKE — Familiar views of Crater Lake take on new vantages from the Garfield Peak trail, and that's part of its allure.
It's 1.7 miles from the trailhead just east of Crater Lake Lodge to the top of the 8,054-foot elevation Garfield, an elevation gain of almost 1,000 feet. While making the top might be a lofty goal for some, the trip can be shortened by stopping about a quartermile short of the summit at viewpoints that overlook the Phantom Ship.
However far you go, go prepared. The well-tended trail, which opened late this season because of lingering snow, climbs steadily and is moderately strenuous.
That effort is frequently rewarded. While the lake views are the best payoff, the trail also provides unusual vistas of Crater Lake Lodge, the layered road that connects park headquarters with Rim Village, and Union Peak.
Plethora of plants
As the trail gains elevation it passes along a succession of plant communities. Even late in the season, the plants alongside the trail include clusters of umbellate pussy paws, rabbitbrush, Crater Lake currant, lingering lupine, green corn lily, pinemat manzanita and spreading phlox.
Among the trees, the whitebark pine are easily identifiable by their bleached out trunks and branches, victims of whitepine blister rust disease, along with healthier stands of mountain hemlock, Shasta red fir and ponderosa pine.
At several stops, examples of volcanic breccia, yellow-tinted pyroclastic fragments cemented together, seem weirdly but wonderfully out of place.
Still, the trail's true attraction is the lake. At some overlooks, Wizard Island seems to float in the lake. At others it appears close enough that one long step off the trail would end nearly 2,000 downhill feet later in the lake. Further up, about a mile from the trailhead, the trail bends to offer startling views of Phantom Ship, the remnants of a 400,000-year-old dike, and Dutton Cliff. At the third of four overlooks, a rock bench provides a stop for contemplation, or a water break.
Best in the afternoon
Because of the play of afternoon light, the trail is best taken in afternoon, the later the better as the lowering sun creates a softly muted kaleidoscope of shifting colors. Along with snacks and water, bring a camera, and use it.
Although photo stops and water breaks are more naturally and easily taken on the hike up, pause and soak in the sights on the way down. You don't have to be atop Garfield to take a peak at Crater Lake.
Jude Francis of Klamath Falls enjoys a view of Crater Lake from Garfield Peak.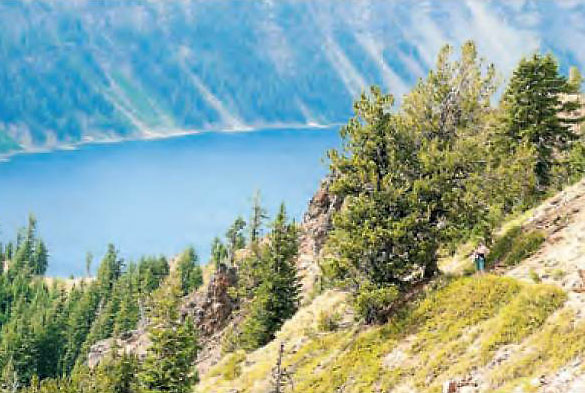 Herald and News photo by Lee Juillerat