Print Friendly
Crater Lake offers 90-minute winter tours: Park rangers lead free treks in park on Saturdays
Statesman Journal
Salem, Oregon
January 24, 2008
By ROY GAULT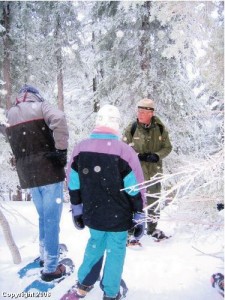 Ranger Don Clark leads a snowshoe group at Crater Lake
Ever wonder how animals survive when they're covered by 10 feet of snow?
Which ones leave the Oregon Cascades until spring and which ones tough it out through the winter?
Park ranger Dave Grimes will answer these and other questions at 1 p.m. each Saturday, when he leads a free snowshoeing tour at Crater Lake National Park. The outings will be offered through April.
"We encourage people with no snowshoeing experience to join us," Grimes said. "That's really who we're targeting. Part of our mission with the National Park Service is to provide ways for the public to enjoy their park, so these are educational trips that are also recreational.
"It's a fun way not only to explore the park but to be introduced to a winter recreation people aren't familiar with — to find out what snowshoeing is all about."
The topic that Grimes or one of his interpretive rangers will cover during the outing is how winter affects Crater Lake National Park.
Crater Lake National Park gets an average of 44 feet of snowfall each year. Now, there's a little more than eight feet on the ground.
"This is one of the snowiest places in America, so it's very interesting when you look at the various ways life has adapted to deal with snow that at times is 15 feet deep," Grimes said. "In order to survive here, the plants and animals have to be able to live through the winter. That's the limiting factor."
Snowshoers won't see deer or elk, unless it's on the drive up Highway 62 to the park.
Tracks seen most often in the snow along the Crater Lake Rim are those of the pine marten and the Douglas squirrel. The pine marten is a long, skinny member of the weasel family. The Douglas squirrel also is known as a chickaree, or pine squirrel.
He said participants likely will see ravens and gray jays, and perhaps tracks of a fox, coyote or a snowshoe hare.
If you go
WHAT: Ranger-guided snowshoe walks in Crater Lake National Park.WHEN: 1 p.m. each Saturday through April; groups of 10 can arrange separate tours on Saturday or Sunday mornings or on weekdays.

FEES: The snowshoe outings are free — snowshoes are provided — and admission to the park is waived in the winter months.

DIFFICULTY: No experience is necessary for the walks, which take 90 minutes and cover a little more than a mile, but participants must be age 8 or older. Park rangers rate the walk as moderately strenuous, but the stops are frequent so that a naturalist can talk about the plants, animals and geology of Crater Lake National Park.

THE SNOW: Crater Lake gets an average of 44 feet of snow a year, with accumulations deepest by the end of January. The snow depth averages 120 inches, or 10 feet, on April 1. There's more than eight feet of snow on the ground now. The elevation is 7,100 feet.

OF NOTE: Tours are limited to 30 participants and they can fill quickly. Registration in advance is preferred, although visitors to the park can stop by the Steel Visitor Center to see if space is available on the day of the outing.

R.S.V.P.: For information or to register for the Saturday tours, or to arrange a private tour for a group of 10 or more, call the Steel Visitor Center at Crater Lake National Park between 10 a.m. and 4 p.m. at (541) 594-3000.

ADDRESS: Crater Lake National Park, PO Box 7, Crater Lake, OR, 97604, or for an e-mail link go to www.nps.gov/crla/contacts.htm.
"The deer and elk have all left the park because the snow gets too deep for them to forage, and the mountain lions have left because they follow the deer and elk," Grimes said. "The bobcats will stick around because they can make do eating snowshoe hares, but it would take a lot of snowshoe hares to keep a mountain lion fed."
Participants usually are curious about the wildlife that they can't see.
"We spend a lot of time talking about the critters that are active underneath the snowpack in what's called the subnivean world, subnivean meaning under the snow," he said.
"Those would be the smaller animals like voles and shrews and a number of insects. We talk about how it's warmer underneath the snow than it is above the snow.
"It's a constant 32 degrees down there and there's no wind chill, so the snow actually insulates a lot of the animals from the extreme cold above."
It is that extreme cold above that snowshoers must prepare for before they travel to Crater Lake.
Snowshoes are provided by the National Park Service.
"Whatever shoes people have that are warm will work," Grimes said. "They should wear heavy socks, and even if they're just wearing sneakers, we'll take a plastic bag and tape it around the whole thing. They'll do just fine if they're wearing heavy socks."
Participants must be at least 8 years old.
Adults who are in reasonable health should not be deterred.
"We call it moderately strenuous, but we typically don't have any trouble with people keeping up," Grimes said. "We're at a high elevation, about 7,100 feet, but we take it easy, make a lot of stops.
"What typically causes people to turn around is the cold. Every few weeks we'll have somebody — especially this time of year when it's pretty chilly — who realizes they didn't dress warmly enough. What we do is have them retrace our steps and leave their snowshoes back at our truck. But that's the main thing, to dress really warm."
A restaurant is open all winter at Rim Village but participants are encouraged to bring food and especially water.
"It's also important to let people know that the lake is only visible about half the time in the winter," Grimes said. "Whenever it's snowing or cloudy, the lake is usually obscured by clouds. Often we can't see much of the lake itself, but the forest is certainly beautiful under a fresh coat of snow."
The walks usually are near Rim Village, 900 feet above the water level of the lake.
The walks will be held regardless of weather, unless Highway 62 is blocked and there is no access to the park.
"There are times during the winter that the road near the rim, between Highway 62 and the rim, is closed," Grimes said. "I wouldn't say it happens regularly, but it will happen. When the road to the rim is closed we do our guided snowshoe walks around the Steel Visitor Center, three miles south of Rim Village. So we'll walk, regardless of whether we can get to the rim or not."
For visitors coming from the west, from Medford and the Interstate 5 corridor, the last gas is at Prospect, about 35 miles southwest of the park.
For visitors coming from the east, from Chemult or Klamath Falls, fuel isn't a certainty.
"The last gas is at the general store at Fort Klamath, if it has gas that particular day," Grimes said. His point: Get the tank full before heading up Highway 62 to the park.
"It's also important to call ahead and make a reservation, because our walks often fill up," he said. "We take up to 30 people on each walk, and people who don't call ahead might be disappointed when they get here."
Groups of 10 or more should call and arrange a separate tour.
"It's the same 90-minute walk we do for the general public, but we don't like to have large groups take up all the spaces for our public walks," Grimes said.