Print Friendly
Extra pair pays off in Crater Lake Rim Runs
Herald and News
Klamath Falls, Oregon
August 9, 2009
BY Steve Matthies
H&N Sports Writer
Even though Justin Karr had finished his competition earlier Saturday, the 20-year-old from Tigard played a major role in determining the winner of the 34th annual Crater Lake Rim Runs marathon.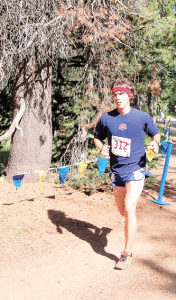 H&N photo by Steve MatthiesThe home stretch: Nicolas Karr approaches the finish line at the Crater Lake Rim Runs marathon Saturday. He won in 2 hours, 46 minutes and 21 seconds.
"I ran with my little brother's shoes," winner Nicolas Karr said. "I forgot my running shoes and, fortunately, Justin brought two pair with him."
Nicolas Karr, 22, ran the fifth fastest marathon in its 34-year history when he finished the race in his brother's orange shoes in 2 hours, 46 minutes and 21 seconds. It was the fastest finish since Bekele Tesfaye of Los Angeles won the 1997 race in 2:38:35.
It was a race Karr likely will never forget.
"That was horrendous," he said. "I don't think I have ever run slower in miles 9-to-13 than I did today."
"I don't train at altitude, so that probably affected me, too," Karr said.
Saturday was the first Crater Lake venture for the Western Oregon University grad, who competed in his first official marathon.
"It will probably be my last trip here, too," he said.
Karr, who will begin graduate school at Boston University in the fall, hopes to run more marathons, however.
Like most first-time runners at Crater Lake, Karr, who strode easily past shorter race finish lines, had no idea what was ahead, especially after the difficult 4-mile climb at the end of the 13-mile race.
After finally dropping almost 3,000 feet in altitude, there was the final hill.
"On that last hill, I kept asking people when it was going to end," Karr said. "This course is incredibly difficult, although the first 6.7 miles was really nice."
Knowing what to expect
While Karr was caught off guard by the course, Becky Kirschenmann of Klamath Falls knew what to expect.
Her challenge was incredibly different as she placed fifth overall and was the first female runner to cross the marathon finish line in 3:34:33.
"I'm just getting back into it since he came along," Kirschenmann said, pointing to her 1-year-old son, Joseph. "I like the challenges of the change of scenery rather than the usual road runs."
Kirschenmann plans to run a 50-mile race over Labor Day weekend, and is thinking about the Portland Marathon.
"I just went out trying to run my race and I was hoping to finish in 3:30," she said. "I was feeling pretty good at the top of 13 miles and didn't get caught up in the competition (with sixth-place finisher Abigail Stephens).
"I tried to stay focused and hold my own pace. Whatever happened, happened. But I couldn't look behind and knew I had to finish strong. I didn't know if I heard (Stephens') footsteps behind me, or if my stomach was sloshing."
Kirschenmann improved on her winning time from two years ago. In becoming the fifth woman to win two Crater Lake marathons, she shaved almost 20 minutes off her previous winning time.