Print Friendly
Wet weather ends fire season around region
Mail Tribune
Medford, Oregon
October 13, 2009
BY PAUL FATTIG
The 2009 fire season in Jackson and Josephine counties has been rained out.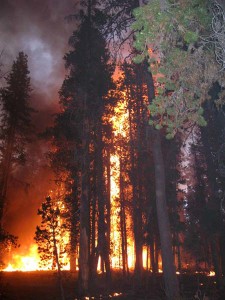 Desert Ridge fire, at night,
Crater Lake National Park
Today's rain, coupled with cooler temperatures and rain forecast for the rest of the week, will bring an end to the season effective Wednesday.
"But it's still somewhat dry in some spots — there is always potential for a grass fire if people aren't careful," said Brian Ballou, spokesman for the Oregon Department of Forestry's Southwest Oregon District.
"We've been monitoring the rainfall in the two-county area," he added late today. "It was heavy in the Applegate and in the Grants Pass area but not so much in the Medford area. There is still the possibility of a fire."
The end of the season means all of the agency's fire restrictions are lifted on lands protected by the district. They include 1.8 million acres of state, private, county, city and U.S. Bureau of Land Management lands in the counties.
However, open burning is regulated for air quality in all of Jackson County, and in the Rogue Basin Open Burn Control Area in Josephine County. Before igniting a woody debris pile or the contents of a burn barrel, call open-burning advisory number in Jackson County at 776-7007 or Josephine County at 476-WOOD.
Meanwhile, the U.S. National Weather Service forecast for Jackson and eastern Josephine counties calls for rain through Monday.
Four inches of wet snow was reported on the ground at the Crater Lake National Park headquarters late this afternoon.