Print Friendly
Cameron (Cam) Sholly has been selected as the new superintendent of Natchez Trace Parkway
National Park Service (NPS) Digest
Online Press Release
Southeast Region, NPS
July 15, 2009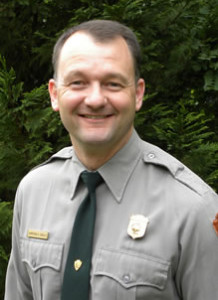 Cam Sholly. NPS photo
"We are delighted to have Cam taking over as superintendent of the Natchez Trace Parkway," said David Vela, regional director for Southeast Region. "He has a proven record of building high performing teams and solid partnerships. He has an impressive range of organizational experiences and has successfully managed both large field operations and some of the highest profile programs in the Park Service's Washington Office."
The Natchez Trace Parkway spans 444 miles across three states, from the southern Appalachian foothills of Tennessee to the lower Mississippi River. It crosses four ecosystems, eight major watersheds, and twelve physiographic regions, and includes two Civil War battlefield sites and the Natchez National Scenic Trail. The parkway has an annual base operating budget of about $12 million and a staff of 140 employees.
Sholly has more than 20 years of federal and state experience. He began his National Park Service career in 1990 at Yellowstone National Park in Wyoming. Since 2005, he has served as the deputy associate director and chief of staff for the Visitor and Resource Protection in Washington, D.C. There he managed an operating budget of $22 million and a staff of more than 160 employees, providing oversight to seven national divisions. These included law enforcement, security and emergency services, fire and aviation management, wilderness stewardship and recreation management, public health services, regulations and special park uses, risk management, and the NPS unit at the Federal Law Enforcement Training Center.
During his tenure in Washington, Sholly helped increase the VRP operating budget by 22 percent. He built a successful leadership team, hiring four national division chiefs and fifteen national program managers. The team helped publish more than 30 resource protection regulations, generated and streamlined NPS policies, and restructured several divisions, thereby gaining significant operational efficiencies. Sholly also helped create the first philanthropic employee relief fund in partnership with the National Park Foundation and a private donor. This fund provides monetary assistance to family members of NPS employees who have died in the line of duty.
In 2008, Sholly was detailed as a senior special assistant to the director of the NPS, where he worked on a new U.S. monument designation and several partnership and professional excellence initiatives.
Prior to coming to Washington, Sholly was the chief of operations and deputy division chief for the Visitor and Resource Protection Division in Yosemite NP. Other past assignments include a detail as chief ranger of Yosemite NP and several supervisory park ranger and field positions, including backcountry ranger and maintenance worker.
Sholly is a veteran of the U.S. Army and was deployed to Operation Desert Storm. He is also a veteran of the California Highway Patrol (CHP), having served in positions ranging from patrol officer to public affairs officer. Additionally, he was an instructor for the CHP Academy and was named as a national spokesman on impaired driving for the National Highway Traffic Safety Administration.
Sholly has a bachelor's degree from St. Mary's College of California and is completing a master's degree in environmental management from Duke University. He is a graduate of the Harvard University Senior Executive Fellows Program, the FBI National Academy, and several components of the Duke Environmental Leadership Program, including Native American Tribal Consultation and Implementation of the Environmental Policy Act.
"Natchez Trace Parkway is truly one of the gems of the National Park System," Sholly said. "This is a wonderful opportunity and I look forward to working closely with the NPS team at the Parkway and with the communities and partners that span its 444 miles."
Sholly and Jill, his wife of 13 years, have one son and will be relocating to the Tupelo, Mississippi, area this fall.
Contact Information
Name: Bill Reynolds