Print Friendly
Ski patrol member watches over park: Niel Barrett is a charter member of the ski patrol at Crater Lake National Park
Herald and News
Klamath Falls, Oregon
January 30, 2009
By LEE JUILLERAT
H&N Regional Editor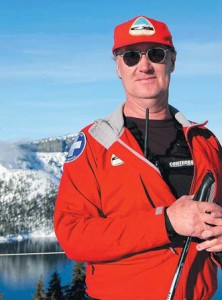 When the Crater Lake Ski Patrol was created 26 years ago, Barrett was a charter member. Years later, he's still part of the group.CRATER LAKE — Niel Barrett doesn't live at Crater Lake National Park. It just seems like it.
Patrollers assist park rangers by signing cross country ski trails, checking for avalanche danger, tackling various special projects and making contact with winter visitors, especially cross country skiers and snowshoers.
Last winter, Barrett spent 23 days at the park and logged 250 miles while doing ski patrol tasks. When a "Good Morning America" film crew wanted to shoot footage from the rim — on a day when snowstorms closed the rim from park headquarters to Rim Village— Barrett organized a team to break trail for the camera team.
Whenever the ski patrol puts on one of its frequent courses — members are required to spend at least two weekends training and three weekends on patrol — the 52-year-old Barrett, who lives in Klamath Falls, is often one of the instructors.
His first park visit was in 1975 with his brother, Alan.
"He dragged me out one day. I bought some skis from Ed (Beverly, the owner of the former High Chalet outdoor store) — wooden skis, back when you had to know the witch doctor to know which wax to use."
Giving back
He's kept returning, as an individual and as a ski patroller, because he loves the lake, and he wants to give back to the sport of cross country skiing.
While he makes year-round visits to the park, Barrett regards winter as special.
"The lake itself. The views," he says. "As skiing goes, it's the massive terrain and many trails. There's something for every kind of ski day. Unlike the summer, when it's wall-to-wall tourists, you have the park pretty much to yourself. There's nobody around."
That doesn't mean Barrett doesn't like company, especially the camaraderie and diversity of other skiers and ski patrol members.
Respecting winter
His frequent winter visits have taught him to respect the quickly changeable weather.
"You just have to be prepared. It can be the most beautiful day, and the birds are singing, and the next day a storm moves in."
Just as the weather can quickly change, so can skiing conditions.
First-time visitors
Barrett takes pride in being a ski patrol member, but he also savors meeting first-time visitors, and sharing his still unquenched love for the park and lake.
"Most Oregonians have been here, but it's the people from other states and countries who are seeing the lake for the first time that I like," Barrett says. "It's the 'Wow!' factor. They've never seen this kind of snowpack. And the lake itself."