Print Friendly
CRATER LAKE NATIONAL PARK — The guy overseeing the maintenance staff at Crater Lake National Park is a gal.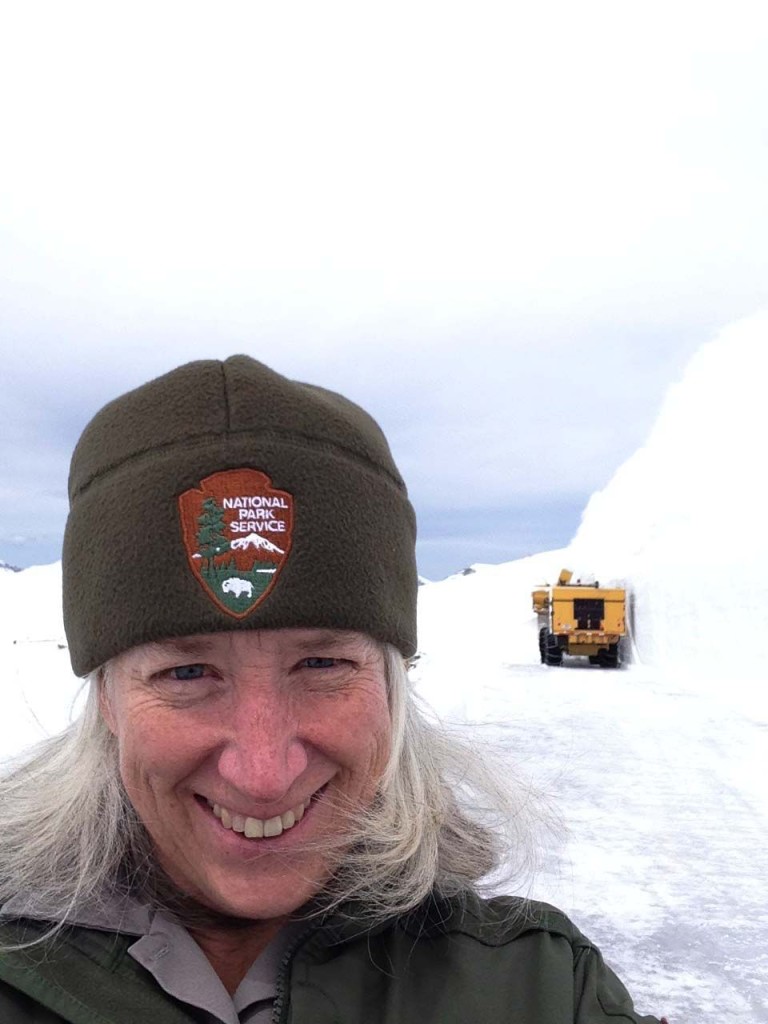 For the first time in park history, a woman, Kirsten Hardin, is Crater Lake's maintenance chief. In her new job, which started earlier this month, the 48-year-old Hardin is overseeing park roads and trails, the full-time and seasonal maintenance staff, the department's budget and myriad other responsibilities.
"I was looking for a smaller park to be a chief of maintenance," who been facilities manager at Rocky Mountain National Park in Colorado before taking the Crater Lake job. "I want to keep moving up in the Park Service. Crater Lake is a beautiful place. Everybody I talked to said it's a piece of heaven."
So far, Hardin has seen only portions of the snow-covered park. With a more typical winter happening at Crater Lake this year — the snowpack is nearly 100 inches — she'll have to wait for spring and summer to see and travel most roads, including most of Rim Drive.
She's been meeting with park staff, especially maintenance staff, and is pleased with what she's seen and learned — "There's a really good crew here. People who know their way and know their jobs."
Living and working in a winter climate isn't anything new. Although she was born in Virginia, Hardin grew up in Boulder, Colo. She went to Mills College, where she earned a degree in anthropology and sociology with a minor in biology, then another undergraduate degree from the University of Wyoming in civil engineering.
"I'm a bit of a professional student," Hardin laughs, noting she earned her master's in civil engineering, with an emphasis in groundwater, also from the University of Wyoming.
Since joining the Park Service, Hardin has also worked at Yellowstone National Park and Point Reyes National Seashore.
"I love the West Coast," she says, recounting summer trips to California as a young girl. One of those included a visit to Crater Lake "when I was a kid with my family."
Her abilities will be quickly tested. She's already hearing tales about the spring opening, when crews work in teams to clear park roads of snow. Unlike the Rockies, where the snow is usually powder, Crater Lake is known for the Pacific Northwest's "Cascade concrete," which makes snow plowing more challenging.
"The snow here is very different than at Rocky Mountain. Here you need to bulldoze the snow."
Hardin will also be challenged because major reconstruction projects on Rim Drive, including the Cleetwood Cove parking area, and at Rim Village. The long winters limit the time when work can be done so projects routinely happen during the park's heavy visitation months. And park visits could soar this summer as Crater Lake celebrates the National Park Service's 100th anniversary.
She's currently living in park housing to "be close to the operations and not have such a big commute," but Hardin expects she'll move to a neighboring community, where she hopes to become involved, ideally by volunteering at a library. "I like being part of the community and meeting different people."
Until park roads are plowed and cleared, Hardin hopes to learn about life and roads away from the park headquarters and Rim Village on her cross country skis.
"I've seen a miniscule portion of the roads," says Hardin, who's eager to see more. "From what I've seen it's a beautiful park."
— next >>