Print Friendly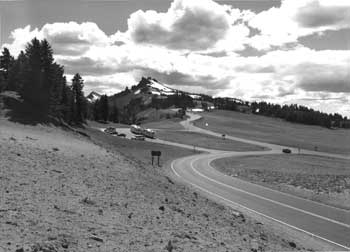 Looking south to the North Junction parking area with Hillman Peak in the distance.
Encircling much of the Crater Lake caldera rim is a two-lane road extending a little more than 29 miles from the main visitor use area at Rim Village to Park Headquarters in Munson Valley.
The 33-mile Rim Drive has more than 20 scenic overlooks. From mid-October until mid-June, the north entrance and Rim Drive are closed to the public due to deep snow and ice buildups along the road.
Rim Drive around the east side of the lake can be closed earlier than mid-October and may not open until July.
Related Links
Related Crater Lake News Links
Crater Lake Rim Runs Recap – August 13, 2007
Last Thursday I headed south for my annual trip to Crater Lake National Park. Nine of the past 10 years, beginning in 1998, I've spent the second weekend of August at Crater Lake to enjoy the spectacular views…
Postcards from the Rim – April 26, 2004
Driving the road will take on new meaning this summer thanks to a new publication, "Rhapsody in Blue: Historic Rim Drive," by park historian Stephen Mark with a funky, retro graphic design by Mary Williams Hyde.
Park plan looks at snipping Rim Road – July 05, 2002
Significant changes, including closure of a large segment of Rim Drive to motorists, are being considered as a new management plan is developed for Crater Lake National Park.
Who remembers Judge Sparrow? – July 1, 1999
Nearly seven decades later, few residents can recall the handsome, charismatic engineer and county judge who forged the rim road around Crater Lake and spearheaded construction of the Jackson County Courthouse.
Snow closes Crater Lake's Rim Drive – November 13, 2002
The North Entrance Road and Rim Drive at Crater Lake National Park closed for the winter on Tuesday after recent storms finally brought snow and icy road conditions.
Park workers push to clear roads: Rim Drive has four miles open – May 26, 1999
The foreman of the Crater Lake National Park road crew who is skinning a D-7H Caterpillar — a growling mechanical tabby weighing some 55,000 pounds — is using every trick he knows to stay atop the slippery mountains of snow blocking the park's rim roads this year.
Hundreds of Wild Flowers Bloom in Natural Garden Around Crater Lake Park -September 8, 1929
Here is the sixth of a series of articles by three Eastbay Boy Scouts touring National Parks of eleven western states under the sponsorship of the National Park Service and The Tribune….
Heavy Touring Season Begins at Crater Lake – July 5, 1924
Work on Roads Made Possible Through Recent Snow; Are in Good Shape Now