Print Friendly
Plaza Comfort Station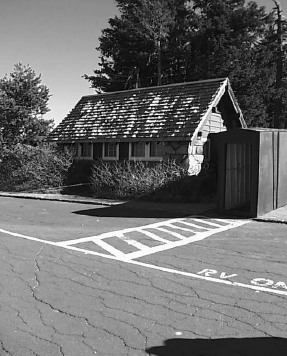 Contemporary photograph of the Plaza comfort station. Note the non-historic winter entry on right side of image (CCSO 2002).
The Plaza Comfort Station is one of six primary buildings at the Rim Village. In 1997, the Plaza Comfort Station, along with 4 other buildings in the Rim Village, was listed on the National Register of Historic Places.
The Plaza Comfort Station was rehabilitated in 2001 and continues to function as it did historically, providing interpretive and general services to park visitors. [Cultural Landscapes Inventory, Rim Village Historic District, Crater Lake National Park, 2004]
Plaza Comfort Station (from Crater Lake Historic Inventory, 2004)
This small comfort station was constructed in 1938 and was listed on the National Register of Historic Places in 1988. Sited on the east end of the plaza, the building is a one-story, rectangular, wood-frame structure with massive native stones applied to the exterior. Horizontal wood siding is used above the stonework on the gable ends of he building. The wood-shake gable roof has extended eaves and exposed rafter ends. Doors centered on the gable ends and bans of windows on the north and south punctuate the building's rock walls. Alterations to the original structure include the removal of a central stone chimney and lattice privacy fences from the north and south sides; the removal and replacement of the original square multi-light hopper windows; and the addition of a door to the west elevation. Despite these alterations made to the structure, the Plaza Comfort Station retains integrity and contributes to the significance of Rim Village.
Character Defining Features of the Plaza Comfort Station
1. Building Setback. The building setback from the Rim Village Road and the Plaza remains located at its historic location.
2. Spacing of Building. The building was purposefully set apart from other buildings at Rim Village and remains in the historic location.
3. Scale and Building Height. The scale and massing of the building remains although a winter entrances, located on either side of the building during the winter detracts from this historic structure. The winter entrance is a temporary feature, however, and is removed during the summer season.
4. Roof and Siding Materials. The Plaza Comfort Station rests upon a stone foundation with shingles used for the siding and for the roof material. This historic vocabulary of materials are characteristic of the rustic buildings found throughout Rim Village.
5. Window Types. Windows are multipaned and located on the western and southern sides of the building.
6. Architectural Style. The building is an example of rustic architecture, which reflects the historic design aesthetic used at Rim Village.
— next >>