Print Friendly
Sinnott Memorial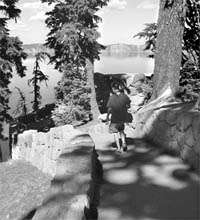 Just north of the Kiser Studio is the Sinnott Memorial, a structure perched atop Victor Rock some 50 feet below the main portion of the promenade. It was the first park building to incorporate massive stone masonry in its construction, thus setting the tone for a group of structures and associated landscape features which came about as part of the naturalization program in Rim Village and Munson Valley.
Opened in 1931, the Sinnott Memorial is an irregularly shaped building that features an open observation room which provides unobstructed views of the caldera and nearby peaks. A stone parapet is a safety measure but also contains exhibit panels. Double doors provide access from the observation room to a museum, which, when open, supplements interpretation provided at the parapet. Both are encased in concrete formwork, but individual boulders three and four feet in height are used to face the structure and make it seem a part of the caldera's inner walls. [Historic Resources at Crater Lake NP, 1998]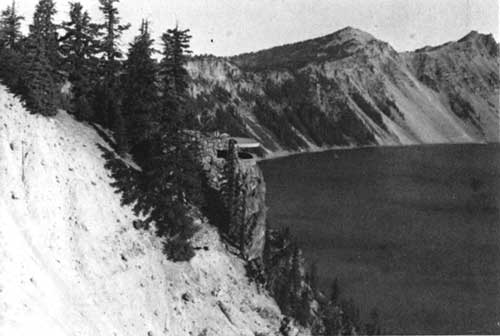 Sinnott Memorial Building, 1981. Photo by David Arbogast, NPS, DSC.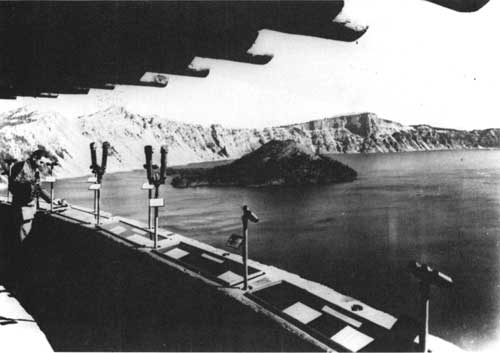 Veranda of Sinnott Memorial Building, 1938. Courtesy Oregon Historical Society.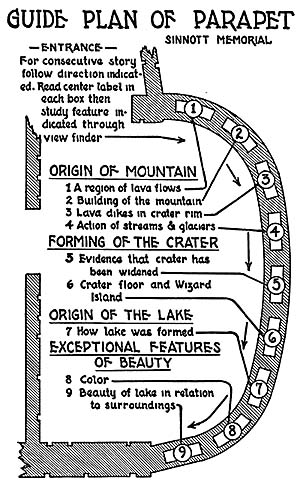 Below taken from "Structures Eligible for the National Register"
   3. Sinnott Memorial Building (Bldg. #067)
An early Crater Lake service facility, the Sinnott Memorial was Merel Sager s prototype for the later rustic architecture style he developed for the administrative area. Dedicated in July 1931, the building became a popular park attraction. It is considered to have architectural significance, for it is constructed mostly of rock and located on a precipitous cliff overlooking the lake. Used as a museum, contact station, and viewing point, it has a naturalistic profile that makes it blend into the rim wall. Its large uncoursed stone walls tie in well with the park's rustic architecture theme. It is recommended that the structure be nominated to the National Register of Historic Places.