Print Friendly
Community House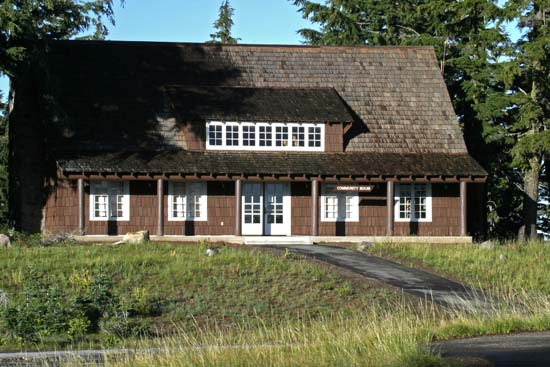 Community House, 2008, Crater Lake National Park, photo by Robert Mutch
During the summer of 1924 the Community House was completed at the Rim Campground. Funds for the structure had originally been intended for construction of a new home for the superintendent, but Thomson diverted the money toward the visitor activity structure. The Community House had a large rustic fireplace and was provided with a Victrola by the Medford "Craters," a booster organization dedicated to promoting park development. The structure became the setting for informal evening gatherings, lectures, dancing, and musical programs, the latter featuring the "Kentucky Rangers" quartet consisting of four seasonal park rangers from that state. [Crater Lake National Park: Administrative History]
Over time, the Community House has served various purposes. It was used for church services by the park staff, it housed the early educational program, it has been used as a museum, and educational lectures were often given.
Community House
The Community House was listed as an individual feature of the designed historic landscape at Rim Village in the amended National Register nomination of 1996. The Community House contributes to the historic integrity of Rim Village with much of its historic fabric remaining. The building is a one-story, rectangular, wood-frame structure set against a backdrop of mature conifers in the northwest area of the former campground. The steeply pitched, wood-shingled gable roof slopes down to the north to form a full-length porch overhang supported by peeled log columns. An exterior massive chimney "battered" in form and built of random coursed stone, rises on the east elevation. Slight alterations to the building exterior were made as part of the Package 274 rehabilitation of the building. These alterations include new concrete pilasters and a concrete porch deck to meet universal accessibility requirements. Despite these alterations, the Community House retains historic integrity in its design.
Character Defining Features of the Community House
Building Setback. The building setback from the Rim Village Road and the Plaza remains as it located at its historic location.
Spacing of Building. The building was purposefully set apart from other buildings at Rim Village and remains in the historic location.
Scale and Building Height. The scale and massing of the building remains as historically designed.
Roof and Siding Materials. The Community House retains much of its historic fabric on its exterior with shingle siding and shingle roofing. This historic vocabulary of materials are characteristic of the rustic buildings found throughout Rim Village.
Window Types. Windows are multipaned and located on the western and southern sides of the building.
Architectural Style. The building is an example of rustic architecture, which reflects the historic design aesthetic used at Rim Village.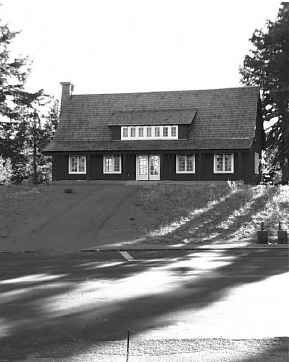 Contemporary photograph of the Community House (CCSO 2002).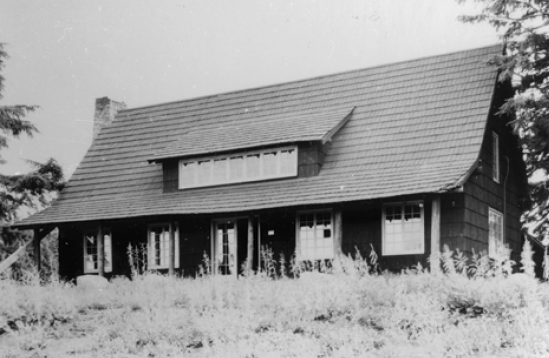 Historic photograph of the Community House in 1941 (CRLA collection neg 5168).
Related Links
Community House

, Cultural Landscapes Inventory, Rim Village Historic District, Crater Lake National Park, 2004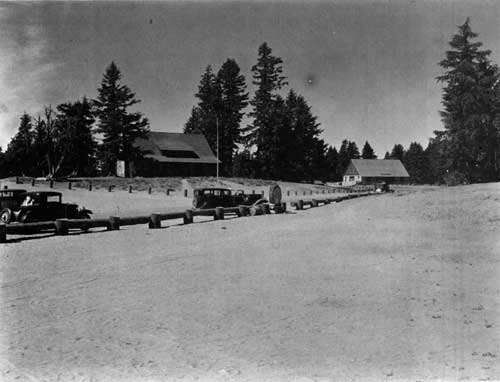 Community house and cafeteria, Rim Village. Courtesy Crater Lake National Park. No date, but before cafeteria addition of 1956.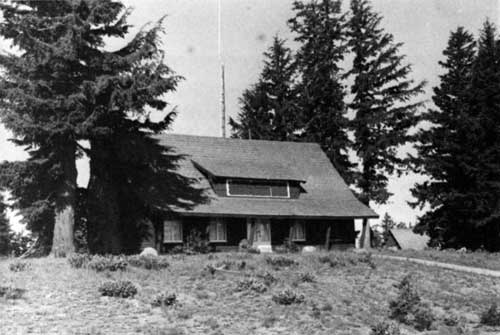 Rim Center (former community house), 1981. Photo by David Arbogast, NPS, DSC.