Print Friendly
Kiser Studio
On July 12, 1921, the cornerstone of the Fred H. Kiser Studio was laid at Victor Rock by Will Steel. Kiser was a nationally-known scenic artist famous for hand-colored-in-oil photos, who became unofficially the "official" photographer of the lake. The building was to be the headquarters for Mr. Kiser's photography work in that part of Oregon and the studio/salesroom for his hand-colored pictures of Crater Lake and the Northwest and for photographic supplies. [Historic Resource Study]
Kiser Studio
Kiser studio was listed as an individual feature of the designed historic landscape at Rim Village in the amended National Register nomination of 1996 and today serves as a visitor center. The building is a one-story, rectangular, stone and wood structure located near the edge of the caldera wall, west of the lodge. Wood shingles cover the gable roofs and overhanging eaves are supported by exposed, peeled log purlins. Multi-paned sliding windows are used on all elevations of the building. Despite minor alterations (pergolas were removed), Kiser Studio retains integrity and contributes to the significance of Rim Village.
Character Defining Features of Kiser Studio
1. Building Setback. The building setback from the Rim Village Road remains as it located at its historic location.
2. Spacing of Building. The building was purposefully set apart from other buildings at Rim Village and remains in the historic location.
3. Scale and Building Height. The scale and massing of the building remains as historically designed.
4. Roof and Siding Materials. Kiser Studio retains much of its historic fabric on its exterior with shingle siding and shingle roofing. This historic vocabulary of materials are characteristic of the rustic buildings found throughout Rim Village. Despite the loss of the pergolas, the building retains its historic character in this regard.
5. Window Types. Windows are multipaned and located on all sides of the building.
6. Architectural Style. The building is an example of rustic architecture, which reflects the historic design aesthetic used at Rim Village.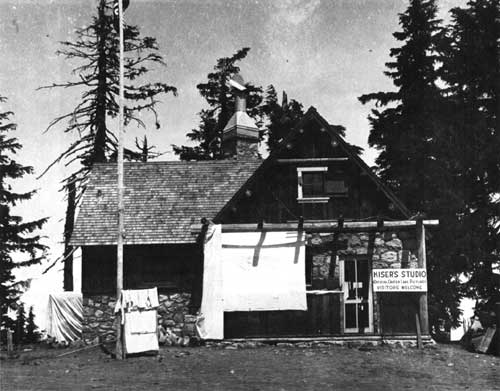 Kiser Studio, Rim Village, n.d. Courtesy Crater Lake National Park.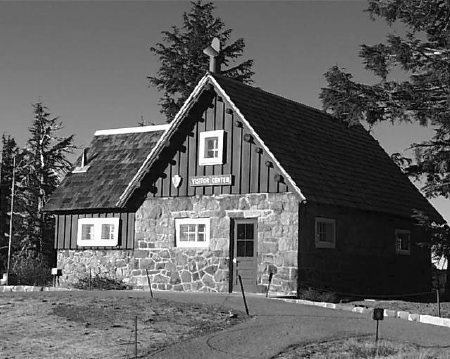 Contemporary photograph of the Visitor Center, formally the Kiser studio (CCSO 2002).
<< previous —