Print Friendly

Volume 31, 2000
---
All material courtesy of the National Park Service.These publications can also be found at http://npshistory.com/
Nature Notes is produced by the National Park Service. © 2000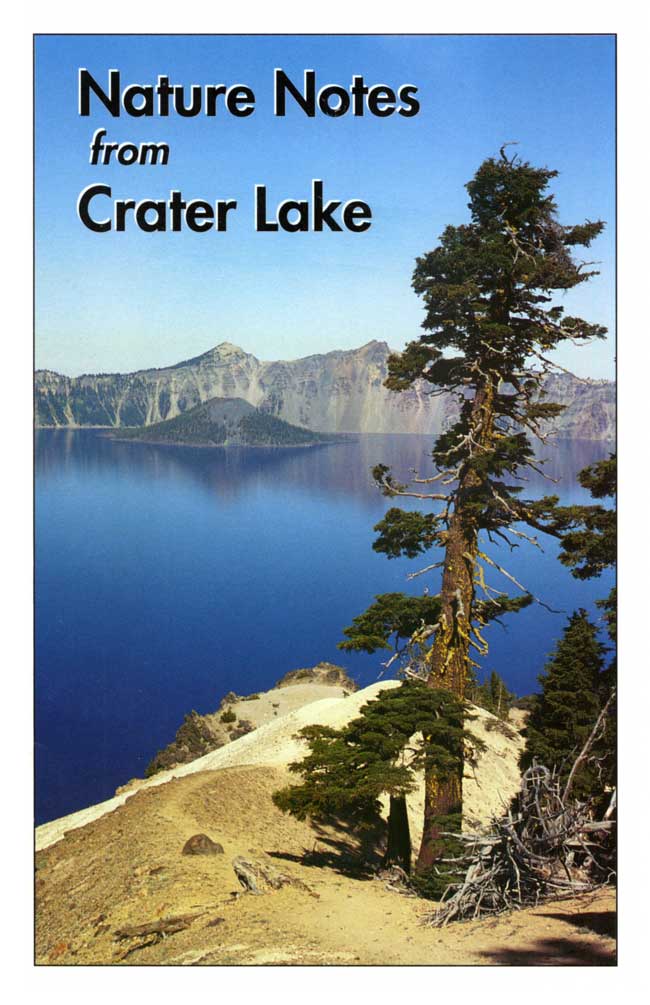 Not Your Average Visitor
By Stephen R. Mark, Editor
Some months ago a story about Theodore Roosevelt began circulating in the local area. According to sources in Klamath Falls, Roosevelt signed legislation establishing Crater Lake National Park on May 22, 1902 in the lobby of the Baldwin Hotel. His published correspondence, however, showed the President to have been either in the White House or New York City during that week. Other problems plagued the story, too. One concerned the lack of contemporary publicity accompanying such a momentous visit, especially when Roosevelt's western swing in 1903 was widely covered by local and regional news accounts. Access presented another difficulty, since passenger rail lines did not reach Klamath Falls until several years after the park's establishment.
Not to be deterred, some residents pointed to a photo taken within the first decade of the park's establishment, It showed a rotund man reputed to be Roosevelt and three companions sitting along the edge of the caldera with Garfield Peak as a backdrop. Their belief about the photo was publicized in a local newspaper article once doubt had been cast on the original story about signing legislation at the Baldwin Hotel. When the Associated Press gave the photo national publicity, representatives of the Theodore Roosevelt Association in New York challenged the notion about the central figure being Roosevelt and cited a number of reasons based on his known physical characteristics.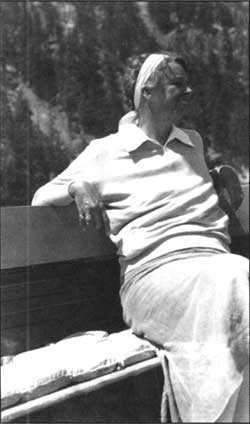 Eleanor Roosevelt enjoying a boat tour, 1934. NPS photo, Crater Lake Museum and Archives Collection.
As good as any story about TR sounds at first blush, the only evidence for any Roosevelt to have visited Crater Lake comes from 1934. On the evening of July 31 Eleanor Roosevelt came to the park unannounced and stayed overnight in the Crater Lake Lodge. She wanted to enjoy a naturalist-led boat tour on Crater Lake the following day and did so. Her visit has so far constituted the only occasion when the Chief Executive or his wife visited the park while in office. Since that time, the only ex-President and First Lady to arrive at Crater Lake were Jimmy and Rosalyn Carter. They made a brief visit on a sunny September day in 1991.
It is worth noting that the Carters, not Mrs. Roosevelt, corresponded more closely to the average park visitor's profile. In this respect, Mr. and Mrs. Carter came as a single "family" where two people (not counting the Secret Service agents) comprise the most common group of visitors. Single families far outnumber the visitors traveling alone or larger groups such as bus tours. Like the majority of summer visitors, Mr. and Mrs. Carter had never seen Crater Lake previously and their midday stop in the park lasted less than four hours. They, like so many other people who come here, did not see it as a destination. Mr. and Mrs. Carter visited Crater Lake en route to the North Umpqua River, where they wanted to go fishing.
Most visitors do not encounter National Park Service staff during the course of their stay, but the Carters found employees willing to assist them because they made the effort to stop at Park Headquarters before proceeding to the rim. The ex-President and his wife even heard an interpretive talk, thereby joining the minority of the park's half million visitors each year who experience a portion of our educational program. Only one in five visitors find their way to a contact station such as the Kiser Studio in Rim Village or the Steel Information Center at Park Headquarters, yet those who do receive assistance on how to better enjoy their time in the park. These contact stations contain an impressive array of items offered for sale by the Crater Lake Natural History Association, and among them are fewer than 500 hundred copies of this publication. So few are printed because the average visitor chooses not to take a boat tour, hike a trail, nor even travel the full 33 miles of Rim Drive. Gentle reader, Nature Notes from Crater Lake is produced in the hope that you might take time to experience more of what this park has to offer.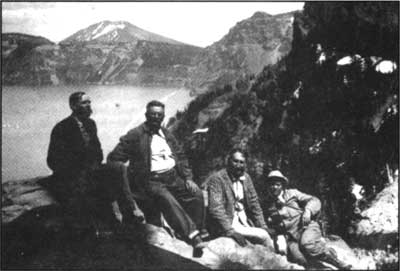 "Theodore Roosevelt" and companions, date unknown. Photo courtesy Southern Oregon Historical Society, Medford.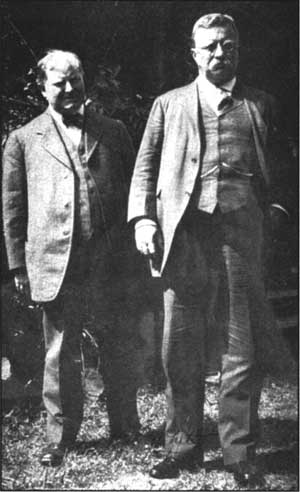 The real Theodore Roosevelt in 1902. Photo courtesy Southern Oregon Historical Society, Medford.