Print Friendly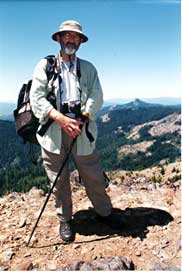 Dr. Frank Lang
Dr. Lang is the host of Nature Notes, a popular weekly radio series on Jefferson Public Radio (JPR). JPR is hosted from here in Southern Oregon, at Southern Oregon University.
Dr. Frank Lang was born and raised in Olympia, Washington. Growing up in the Puget Sound area, his love of biology was fueled by his Boy Scout Merit Badge counselor, the renowned naturalist and author Margaret McKenny.
He took his undergraduate degree in botany at Oregon State College (now Oregon State University) his M.S. from the University of Washington and his Ph.D. from the University of British Columbia.
Dr. Lang is Professor Emeritus of Biology at Southern Oregon University (SOU) in Ashland, Oregon, where he taught for 30 years. After retiring from SOU, Dr. Lang worked in the Ashland Resource Area, Medford District, of the Bureau of Land Management, on an intensive study of the Cascade/Siskiyou National Monument.
Dr. Frank Lang is the father of two grown children and lives in Ashland, Oregon with his wife of 48 years, Suzanne, and their dog, Rupert.
Special Note
Frank Lang is a friend to the Crater Lake Institute and we have posted those articles of his which we feel have some relevance to the visitor of Crater Lake National Park. Take a few minutes and read through Dr. Lang's wonderful articles. Thank you Frank!