Print Friendly
SCUBA Diving in Crater Lake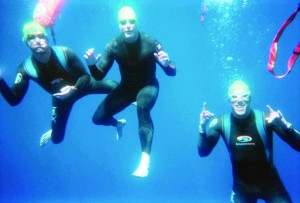 While diving was once allowed at Crater Lake, it no longer is permitted. Below is the new park regulations for that.
36 CFR §3.17 – REGULATIONS THAT APPLY TO SWIMMING AND BEACHES
The Superintendent has formally designated the following areas as swimming areas or swimming beaches:· Swimming is allowed within 100 yards of Cleetwood Cove and within 100 yards of Wizard Island, provided that swimmers remain at least 50 feet away from any boat, boat dock or buoy.The following are prohibited within designated swimming areas or swimming beaches:

· The use of any other swimming accessories other than standard swim suits or clothing is prohibited. Such accessories include: wetsuits, masks, fins, towable devices, inflatabletubes/mattresses or other swim accessories.
SCUBA diving and snorkeling are not permitted in Crater Lake. In order to best protect this fragile and unique resource, the lake has been closed to the use of such equipment that could introduce non-native or invasive aquatic species that could threaten the integrity of this resource. Non-native or invasive aquatic species have wreaked havoc on other aquatic systems. 
And you can even do it here virtually and digitally.