Print Friendly
Volunteering Your Time for Crater Lake
So, you are thinking about volunteering at Crater Lake? Here is some information to help you get started.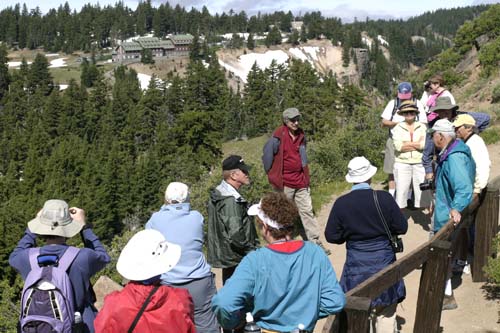 The Park – You can volunteer directly through the National Park Service's Volunteers-In-Parks Program (VIP). The primary purpose of the VIP program is to provide a vehicle through which the National Park Service can accept and utilize voluntary help and services from the public.
The Ski Patrol – The Crater Lake Ski Patrol is a nationally-recognized and highly-spirited group of volunteers has around thirty-five members who work under the management of the National Park Service. Crater Lake Institute has donated equipment to this fine group. It is partially sponsored by Crater Lake Instutute.
The patrol not only contributes to the day-to-day activities that keep the park looking pristine during the winter months. They are also essential to visitor safety, stemming from a proactive management approach. Although the park spans nearly 200,000 acres, its Visitor and Resource Protection Staff consists of only three field rangers during the winter, so the support provided by the ski patrol is invaluable.
The Friends of Crater Lake – This is another invaluable non-profit that helps build trails, erect signs, organize events and much more.
To sign-up or receive more information contact Larry Smith, Friends volunteer coordinator, 315 Laurelwood Drive, Jacksonville, OR 97530, telephone (541) 899-7402, email jvsmith@clearwire.net.
Related Links