Print Friendly
Park Headquarters Historic Trail – Crater Lake National Park
Time: 30 minutes

Difficulty: Moderate

Length: .3 mi (km) loop

Elevation: 6600* – 6445 ft (2012 – 1964 m)

Trailhead coordinates:

Latitude: N +42° 53.79 or 42.89666

Longitude: W -122° 08.06 or -122.13435

Altitude: 6490 ft (1978 m)

Highlight:

Historic buildings and landscapes; forest; Munson Creek
   * Superintendent's Residence (highest point)   Steel Visitor Center (lowest point)
REI Trails Project  partners with Crater Lake Institute to produce their trails app. Click the map below, get the app – then come back, we offer more.
Trail Description
This moderately strenuous trail begins just behind the Steel Visitor Center (formerly the Ranger Dormitory). In just a hundred meters it comes to the Lady of the Woods (see below) in a mountain hemlock forest. The trail then passes by several historic structures (the Munson Valley headquarters is a historic district), and a stream and wet meadow. A self-guided trail pamphlet is available (just in the Visitor Center) which matches up with interpretive markers placed at various points along the trail.
Trailhead location: Behind the Steel Information Center at Park Headquarters
Nature Note: Mountain hemlock forest with open meadows and sparse underbrush characterizes the vegetation of the upper Munson Valley area that the trail moves through. Other trees that may be encountered are Shasta red fir and noble fir. Wood rush is the dominant understory shrub and Scouler's willow and subalpine fir are found along the creek and in low wet meadows.
Historic Note: Lady of the Woods was carved in 1917, by a member of the YCC crew building the first Rim Drive. See Cultural Landscape Recommendations: Park Headquarters at Munson Valley, for an in-depth explanation of the history of Munson Valley.
Seasonal Information: Expect the trail to be covered in snow from October to early July, however, conditions vary somewhat from year to year. See Crater Lake Current Conditions for more information.
blue marker – trailhead

01 
– Park headquarters administration building
02 
– Steel Visitor Center
03
– Lady of the Woods
04
– Superintendent's Residence (now the new Science and Learning Center)
05
 – Naturalist's Residence (also part of the new Science and Learning Center)
Park Headquarters Historic Trail Elevation Profile

Related Maps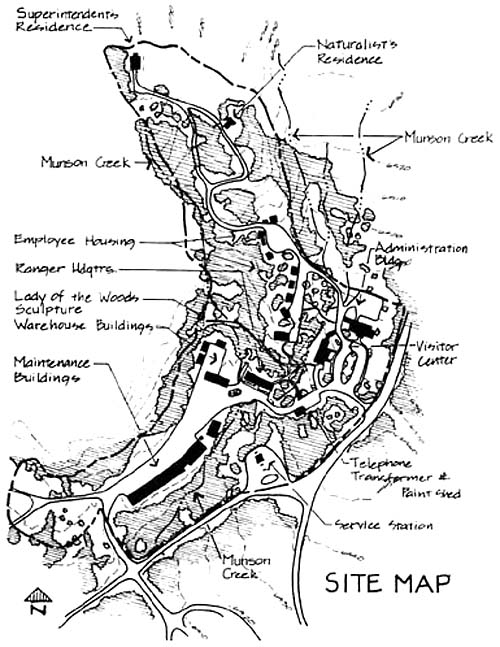 Munson Valley Historic District site map, Cultural Landscape Recommendations: Park Headquarters at Munson Valley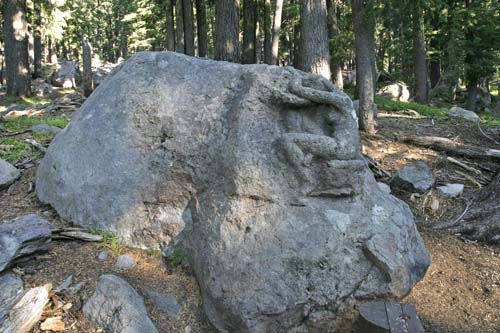 Lady of the Woods, carved from a volcanic rock, Park Headquarters historic trail photo by Robert Mutch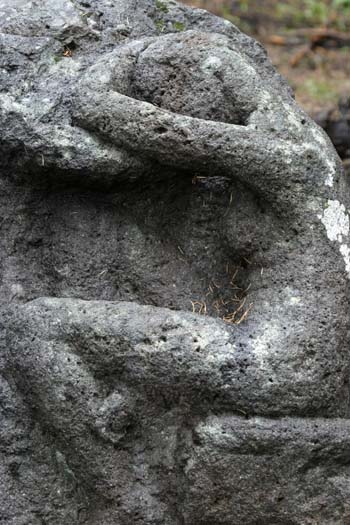 Lady of the Woods closeup, Park Headquarters historic trail, photo by Robert Mutch
The lasting values of Dr. Bush's association with the park rest in the "Lady of the Woods." The true essence of its significance, and the best expression of the attitude with which it should be viewed, seem to me to be most simply and clearly put in Dr. Bush's own words. Perhaps you will keep them in mind when you come upon this symbol of the inspiration which one man found within the wilderness:
"This statue represents my offering to the forest, my interpretation of its awful stillness and repose, its beauty, fascination, and unseen life. A deep love of this virgin wilderness has fastened itself upon me and remains today. It seemed that I must leave something behind …. if it arouses thought in those who see it, I shall be amply repaid. I shall be satisfied to leave my feeble attempt at sculptural expression alone and unmarked, for those who may happen to see it and who may find food for thought along the lines it arouses in them individually. It would be sacrilege to assign a title and decorate it with a brass plate." (Monroe, 1922).
(Biographical note: Dr. Earl Russell Bush, born in 1886, received his M. D. degree from the Indiana University School of Medicine in 1909. He practiced medicine in Indianapolis, Indiana, for a few years prior to World War I. After that war, during which he served as a member of the Medical Corps, he reentered government service, becoming Regional Medical Officer, U. S. Veterans' Bureau, Cincinnati, Ohio. In January, 1930, he became Associate Medical Director, Western and Southern Life Insurance Company.